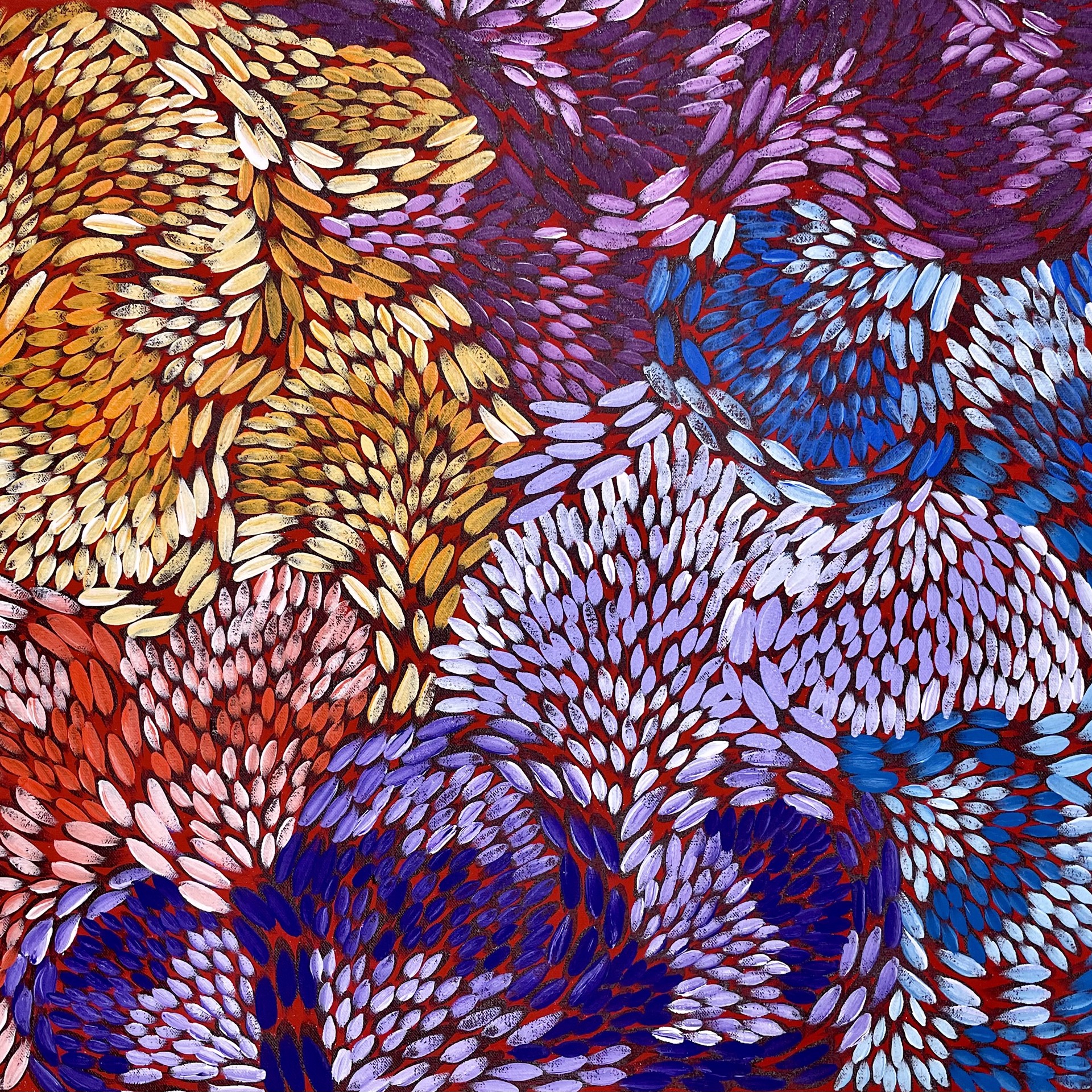 Daphne was born in 1979 at Alice Springs hospital. Daphne's mother was Jillian Jugadai Napapltjarri and her father was Loue Marks Tjakamarra. They lived together at Haasts bluff when Daphne was young. Daphne has four siblings, Willy (different father), Benisa, Dennis and Frankie. Daphne is the oldest of her siblings.
Daphne started school in Haasts Bluff, where she was taught in both English and Luritja. When she was nine years old, the family moved to Kintore for some years, so that her father could be with his family who are from there. After that they moved back to Haasts Bluff and lived together with her mother's family. When Daphne was about 12 years old, her Mother and Father passed away. Daphne was then raised by her grandmother, Narputta Nangala Jugadai, Ikuntji's most senior and internationally recognized painter.
Daphne finished primary school in Haasts Bluff and went on to Yirara college in Alice Springs. At Yirara College they learnt only in English.
After college she moved back to Haasts Bluff where she started working at Ikuntji Women's Centre as a cook when it first opened in 1992. Her grandmother, who had been painting with her husband, Timmy Jugadai since the 1970's was a founding member of the women's centre. Narputta's brothers, Riley Major and George Tjangala, were both part of the desert painting movement in Papunya in the 1970's.
Daphne says she used to come early in the morning to the women's centre and prepare breakfast and lunch for all of the old ladies and men who were painting. During which time Daphne learn stories and painting from her grandmother. Narrputa told her that when she is older "you should start making that painting, that dreaming."
Daphne then worked at the childcare centre in Haasts Bluff, back when it was in one of the small houses. She remembers when they opened the new centre, the old ladies, Eunice Napanangka Jack, Anmanari Nolan and Narputta Jugadai were dancing. After Daphne was married she was looking for work and decided to study to be a teacher. At 22 years old she studies for 2 years at Batchelor Institute in Alice Springs. She has been working at the Haasts Bluff school since she was 24 years old. She is a teacher for the prep class, where she teaches in two-way language (English and Pintupi Luritja). She enjoys teaching two-ways and says each morning she sings with the children in 2-way language. Daphne's younger sister, Benisa, is also a teacher at the school. Daphne and Francis have three children and one granddaughter.
In her spare time, Daphne paints whenever she can, a well as hunting and cooking Goanna's, shopping and looking after her sons. Her family is very important to her and she spends a lot of time looking after the welfare of her extended family. Daphne has an eye for detail and paints meticulous translations of the Yalka Tjukurrpa (bush onion dreaming). Her work becomes particularly vibrant after the rains when the newly emerged plants dominate her paintings.
Daphne was passed down the right to paint the Yalka Tjukurrpa at Karrkurutinytja (Bush onion dreaming at Lake Macdonald) from her grandmother Narputta. Narputta was born close to this sight, she also painted this story. Daphne has been involved with Ikuntji Artists since it was first opened in 1992 and has been painting for several years now When she started she was one of the youngest artists to work at Ikuntji Art Centre.